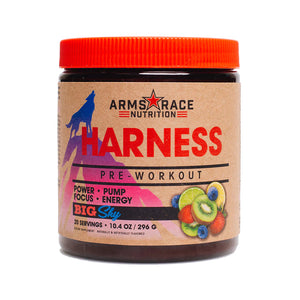 Arms Race Harness Pre Workout
SUPERCHARGE YOUR WORKOUTS.

 

HARNESS contains key ingredients demonstrated to increase measures of athletic performance.
FOCUS and ENERGY.

 

HARNESS' energy matrix emphasizes clean, sustainable, and beneficial energy over pure stimulation. Our specific combination of two forms of caffeine anhydrous results in less of the dreaded "crash."
GREAT FOR EVERYONE.

 

HARNESS has been formulated to address a wide range of athletic needs. HARNESS is perfect whether you're an aspiring marathoner, a crossfitter, or someone just trying to get in shape.
DELICIOUS TASTE.

 

In seven innovative and delicious flavors, you'll never dread drinking your pre-workout again. No chalky texture or bitter after taste.