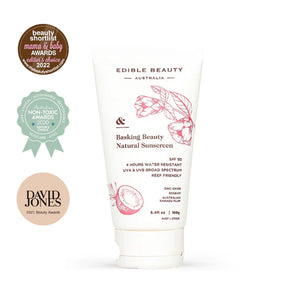 Basking Beauty Natural Sunscreen
Bask in the beauty of our pure, ocean-friendly sunscreen formula providing broad spectrum SPF50 UVA/UVB protection with zinc oxide. This moisturising, age-defying sunscreen effortlessly glides onto the skin easily and is enriched with Vitamin E and Rosehip Oil to nourish the skin and provide a hydration boost. Basking Beauty is the ultimate plant-based, botanical and luxurious sunscreen.
Key Actives
Zinc Oxide: provides physical broad spectrum sun protection without the skin irritation or hormone disruption found in chemical sunscreens. Camellia Seed Oil: a light-weight phyto active oil abundant in fatty acids to calm and hydrate skin.
Vitamin E: potent antioxidant, assisting with the reduction of redness and oxidative stress within the skin.