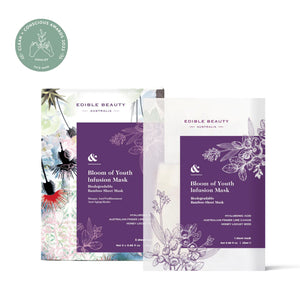 Bloom of Youth INfustion
The Bloom of Youth Biodegradable Infusion Mask uses exotic botanicals to visibly tighten, plump and illuminate the appearance of skin. This sheet mask application allows concentrated doses of active ingredients to infuse the skin for a more youthful appearance. Polysaccharide rich Honey Locust enhances skin tightness along with Hyaluronic Acid, which visibly plumps and hydrates to promote healthy, radiant-looking skin. Wildcrafted Australian Lime Caviar naturally brightens and illuminates the appearance of skin. Our unique sheet mask is made with 100% natural bamboo fibre that will biodegrade 4-6 months after use.
Key Actives
Honey Locust Seed: flash skin perfector, rich in polysaccharides has been clinically proven to instantly plump the skin and eliminate fine lines within 3 minutes.
Australian Lime Caviar: extracted using an innovative cellular matrix process, rich in antioxidants and glycosides to naturally brighten and illuminate.
Hyaluronic Acid: holds over 1,000 times its weight in water, replenishing skin moisture and plumping the skin to relieve fine lines.