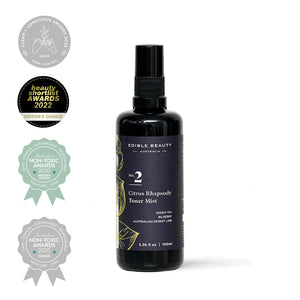 Citrus Rhapsody Toner Mist
An essential step in any cleansing routine, this orange floral water mist assists in completing the cleansing process whilst visibly balancing and hydrating skin. Formulated with Niacinamide, this light-weight mist soothes dry skin and contains a unique bio-active complex of antioxidant-rich Australian native superfruits including Kakadu Plum, Illawarra Plum, and Burdekin Plum to instantly hydrate and rejuvenate the complexion. Also containing Orange Fruit Extracts and Green Tea, this formula visibly tones the skin, providing a burst of uplifting action leaving the complexion hydrated and feeling refreshed and visibly more radiant.
Key Actives
Niacinamide (Vitamin B3): helps brighten dullness, evens out skin tone, minimise pores whilst improving barrier function and visibly improving the look of fine lines and wrinkles.
Green Tea: boosts hydration and provides antioxidant protection against free radicals.
Native Australian Wild Plum Harvest: a unique bio-active blend of Australian wild plums including Illawarra Plum, Burdekin Plum and Kakadu Plum provide long term skin hydration and skin rejuvenating action.