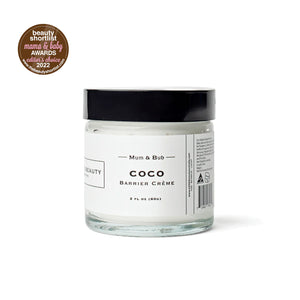 Coco Barrier Creme
This is an ultra-hydrating cream designed to prevent nappy rash, calm cradle cap and soothe dry skin on bubba and adults. Contains an exclusive blend of nourishing botanicals, designed to protect your baby's delicate bottom area from excess moisture and support skin healing.
This cream uses Candelilla Wax to create a moisture repellent barrier between you and your baby's precious skin and sources of irritation, helping to enhance the skin's natural healing process. Organic Coconut Oil, Sunflower Seed and Olive Oil provide extra nourishing and protective action. Marshmallow and Calendula comfort and calm whilst Kakadu Plum Oil, being rich in vitamins C and E, soothe and support the skin's natural repair process. This luxurious coconut cream is beautifully calming as it melts into the skin. Suitable for newborns.
Key Actives
Candelilla Wax: a plant based wax derived from the candelilla shrub which creates a strong barrier against moisture making it the ideal antidote to nappy rash.
Calendula: contains various carotenoids, flavonoids and saponins which have calming, soothing properties whilst also helping to support the skin's repair processes.
Marshmallow: bundant in mucilage which provides moisture, alleviates irritation and envelopes your baby's skin in a soothing and protective cocoon.