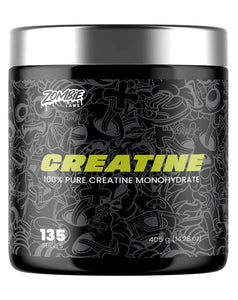 Creatine
Support your Zombie gains with the power of 100% highest Industry-Grade Micronised Creatine Monohydrate
Unleash your strength from within as you activate your muscles with powerful ATP (Adenosine Tri-Phosphate) energy.
RISE FROM THE DEAD
Elevate your training from ordinary human levels to extraordinary ZOMBIE heights. Our 100% pharmaceutical-grade micronised creatine is designed to give you the ultimate boost in strength, power, and muscle performance.
MIND-BLOWING BENEFITS
Muscle Magnitude: Skyrocket your muscle mass and look bigger than ever.
Strength Surge: Lift heavier, push harder, and dominate every session.
Rapid Recovery: Bounce back in record time and be ready for the next challenge.
DON'T LEAVE YOUR GAINS ON THE TABLE 
Boosts ATP energy for explosive power.
Enhances muscle cell volume for that pumped look.
Proven to increase high-intensity exercise capacity.