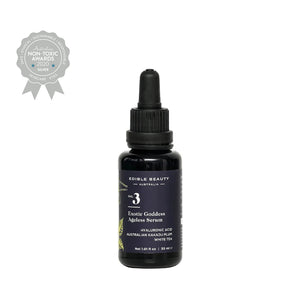 Exotic Goddess Ageless Serum
The ultimate skin booster, this serum revitalises and revives skin's appearance through a potent blend of antioxidant-rich botanicals and wild-crafted Australian ingredients. This youth and beauty secret weapon is enhanced with Kakadu Plum, packed with the world's highest levels of Vitamin C. Along with Hyaluronic acid, it works to brighten and hydrate skin to combat water loss and amplify plumpness, so skin emerges smoother, firmer and visibly rejuvenated.
Key Actives
Kakadu Plum Extract, Superox-C™: contains the highest bioavailable source of vitamin C, protects skin cells from oxidative damage, supports collagen production and is clinically proven to brighten the skin and reduce the appearance of wrinkles.
Hyaluronic Acid: holds over 1,000 times its weight in water, replenishing skin moisture and plumping the skin to relieve fine lines.
White Tea Extract: contains a high concentration polyphenols for potent anti-ageing and skin protective benefits. Improves skin UV sensitivity.
*An independent study on the serum, conducted amongst 33 participants aged between 30 and 65 found the following results.
90% noticed an improvement in skin hydration
78% saw an improvement in skin roughness, fine lines and wrinkles
84% enjoyed an improvement in skin softness and smoothness
90% reported an improvement in overall appearance and skin condition 
91% participants rated the absorption and consistency as excellent