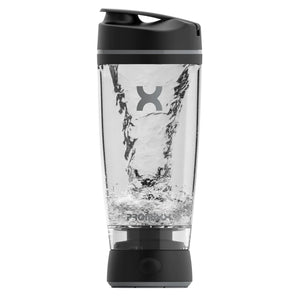 Promixx Vortex Shaker Bottle
 No more shaking, No more clumps 
Featuring the patented PROMiXX X-Blade technology for super smooth shakes, ORIGINAL is powered by 2xAA batteries, so you can mix on-the-go! Meaning you can take your MiiXR anywhere in the world, and can accompany you on any adventure. You be can fuelled anytime, anywhere.
Designed in the UK after more than seven years of product evolution and manufactured responsibly in China, ORIGINAL is durable, tough, odour and stain resistant, BPA/DEHP-free and easy-to-clean! To use self-cleaning, just add warm water and detergent and turn on - and allow ORIGINAL to clean itself - just remember DO NOT get the motor wet. 
ORIGINAL has an ergonomic sports cap and a 100% leak-proof guarantee, meaning you can toss PRO in your gym bag confidently. Peace of mind with the Halo drop protection built into the motor unit, for those 'uh oh' moments.
What's included with ORIGINAL:
1 x BPA/DEHP-free Bottle
1 x Battery-Powered* Motor Unit (2xAA Batteries Not Included)
1 x Leak-Proof Sport-Style Lid
1 x Instruction Manual