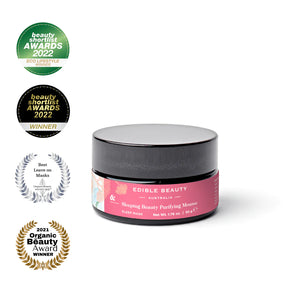 Sleeping Beauty Purifing Mousse
A nighttime treat for skin, this delicate pink clay sleep mask is designed to visibly purify, revitalise and provide vital moisture while you rest. Pink Clay, Zeolite and botanical active 5 Alpha Avocuta, work to clarify the skin by removing excess oil and impurities, visibly reducing the appearance of shiny, greasy skin. Formulated with Acai, Vitamin E along with Passionflower Seed, to soften the skin's appearance so you wake up to a visibly brighter and more radiant looking complexion the next morning.
Key Actives 
Pink Clay and Zeolite: clarify and detoxify the skin by absorbing excess oil and impurities.
5 Alpha Avocuta: derived from avocado oil, clinically proven to balance an oily T-zone. Targets clogged skin/breakouts for a visibly clear and radiant complexion the next morning.
Vitamin E: potent antioxidant, assisting with the reduction of redness and oxidative stress within the skin.