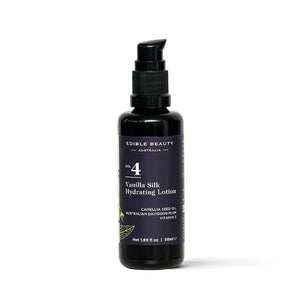 Vanilla Silk Hydrating Lotion
This luxurious lightweight moisturiser feels silky smooth and provides a burst of hydration to the skin. An essential final step of the Core Four skincare routine, it locks in moisture and visibly enhances skin firmness and plumpness using a powerful blend of hydrating ingredients including Cocoa Butter, Shea Butter, and Camellia Seed Oil. Australian native extracts Davidson Plum and Lemon Aspen work to support the skin's natural elasticity, leaving skin feeling soft, primed and noticeably plumper.
Key Actives
Camellia Seed Oil: a light-weight phyto-oil abundant in fatty acids to calm and hydrate skin.
Australian Davidson Plum: extracted using innovative liquid cellular matrix technology, strong anti-inflammatory to improve skin elasticity and the appearance of fine lines.
Vitamin E: potent antioxidant, assisting with the reduction of redness and oxidative stress within the skin.